The stories of the Earth have changed in nature and scale: we do not write stories to tell about the creation or the course of the world, but to avert its end.
Ts'ui Pen must have said once: I am withdrawing to write a book. And another time: I am withdrawing to construct a labyrinth. Every one imagined two works; to no one did it occurred that the book and the maze were one and the same thing.
Choreography for the dying light
We met blind people. Some were born blind, others lost their sight over time. We asked them to tell us how they see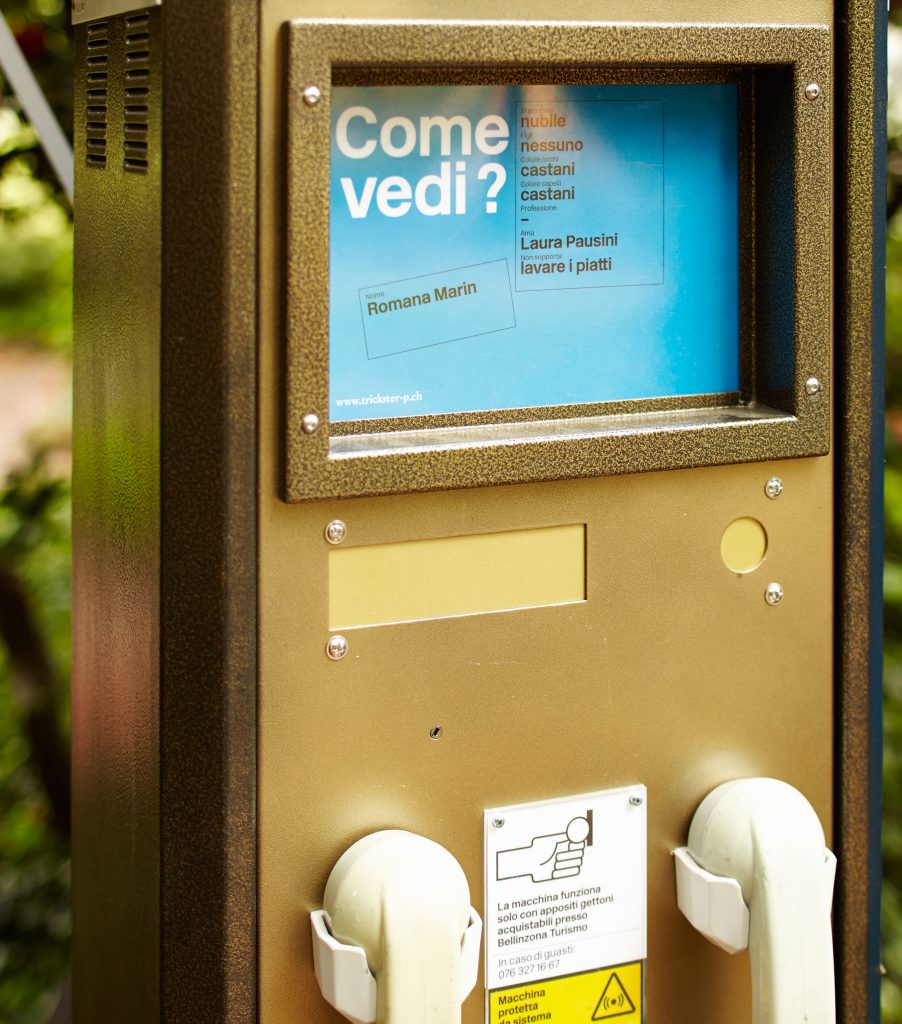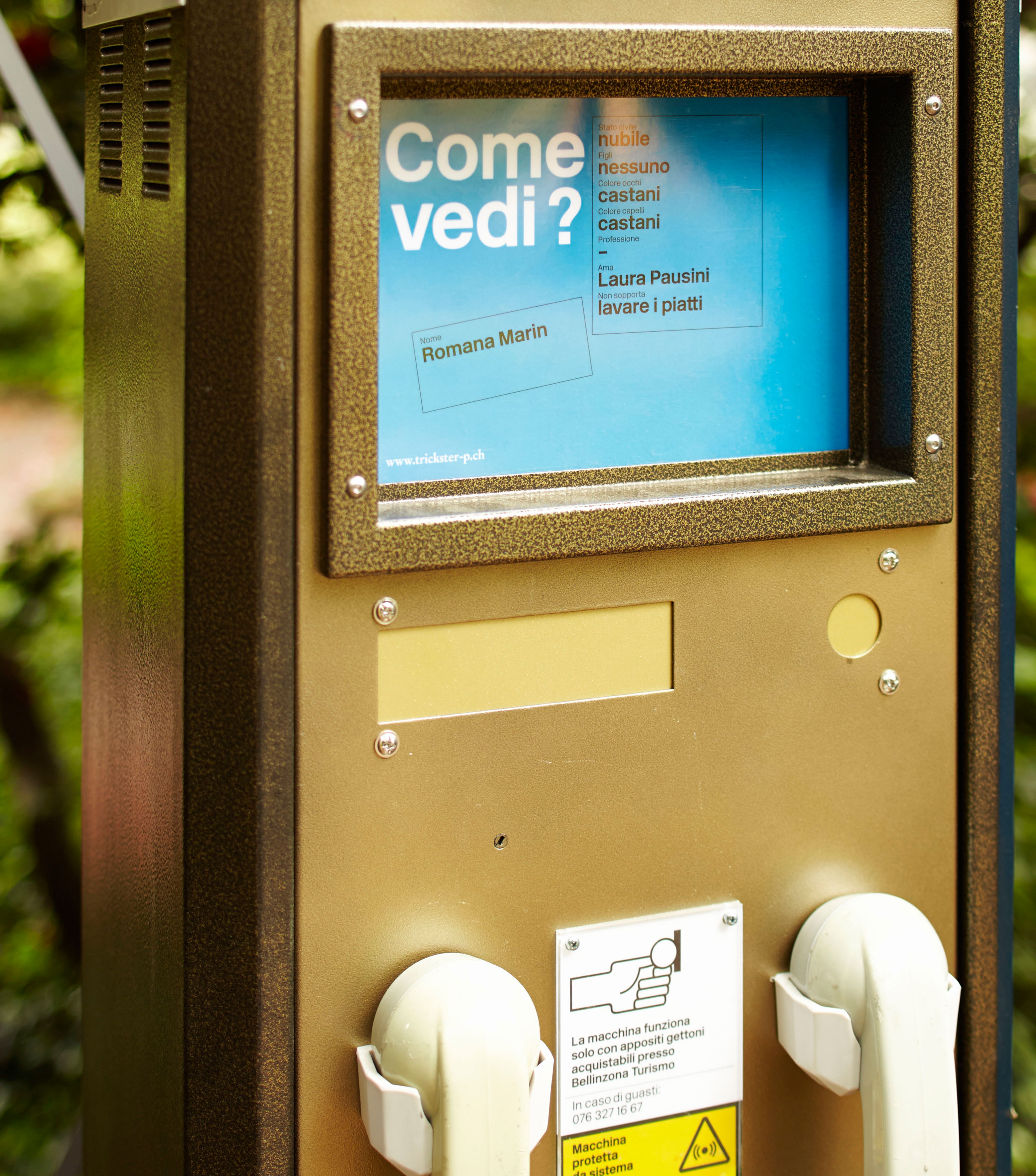 Room by room audio journey around the fairy tale Snow White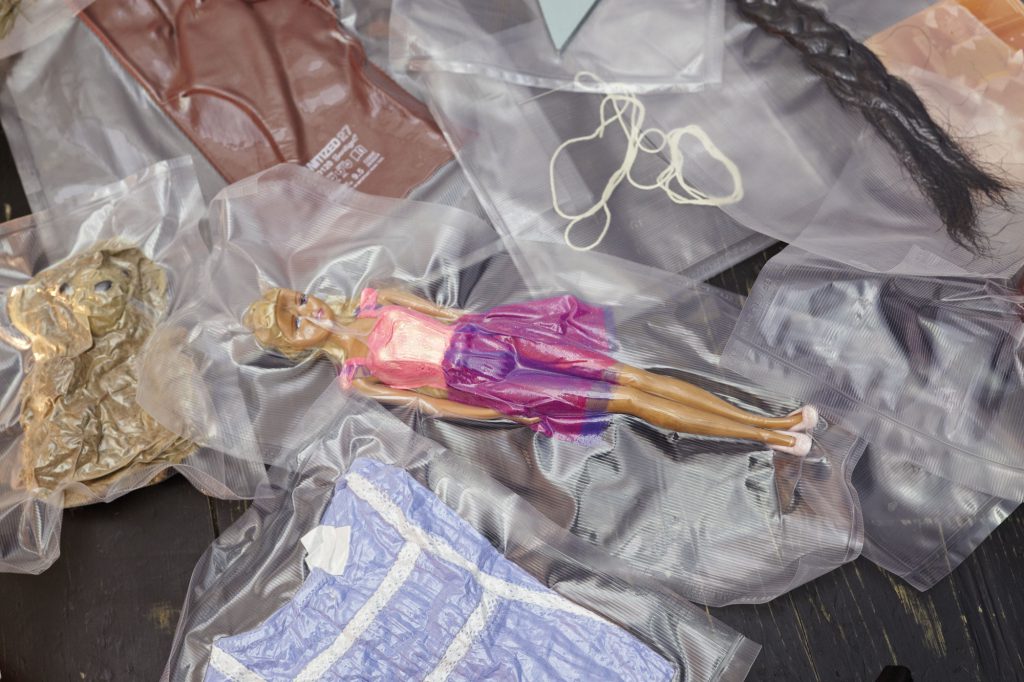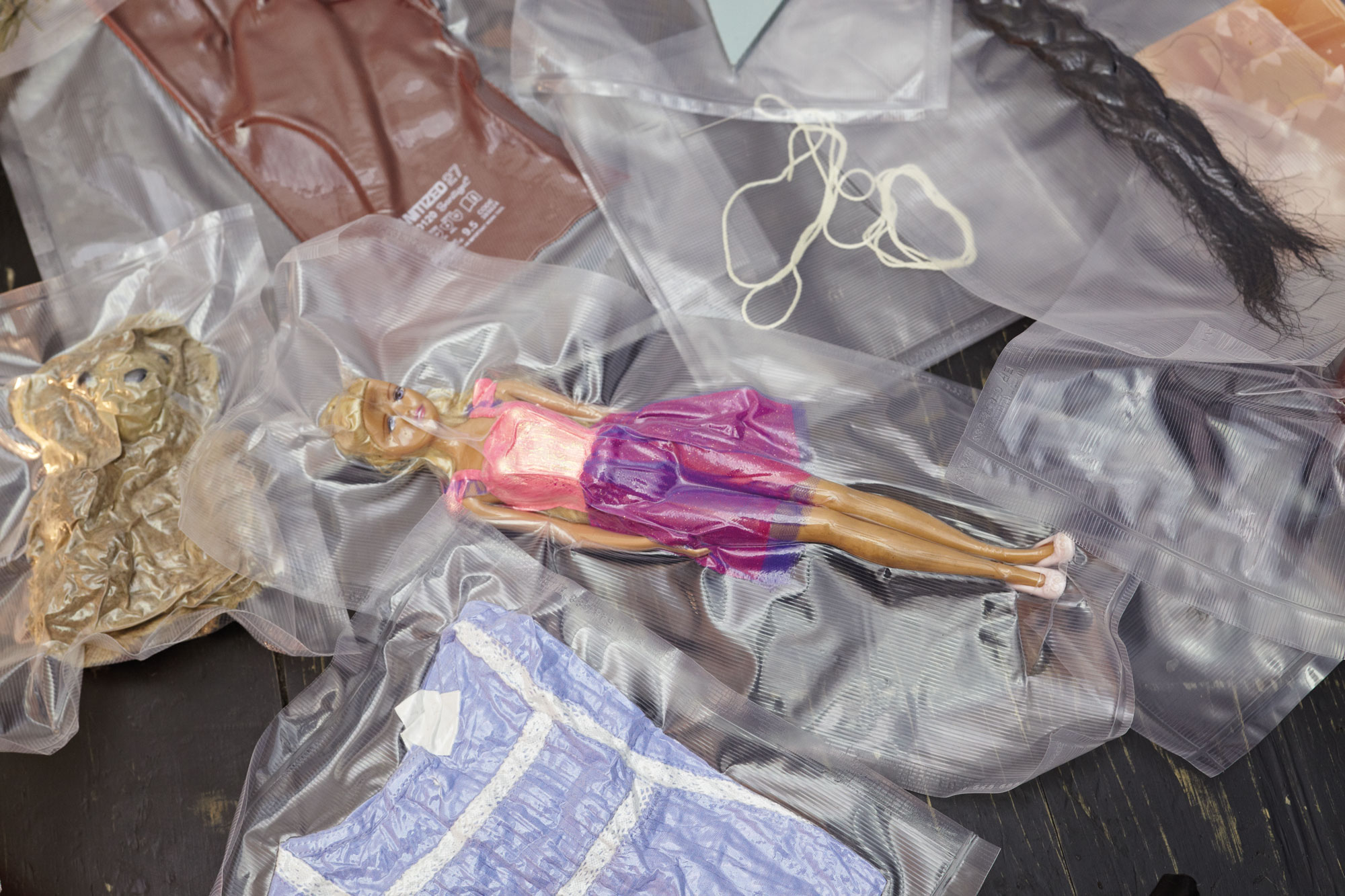 Installation in 9 rooms, one prologue and one epilogue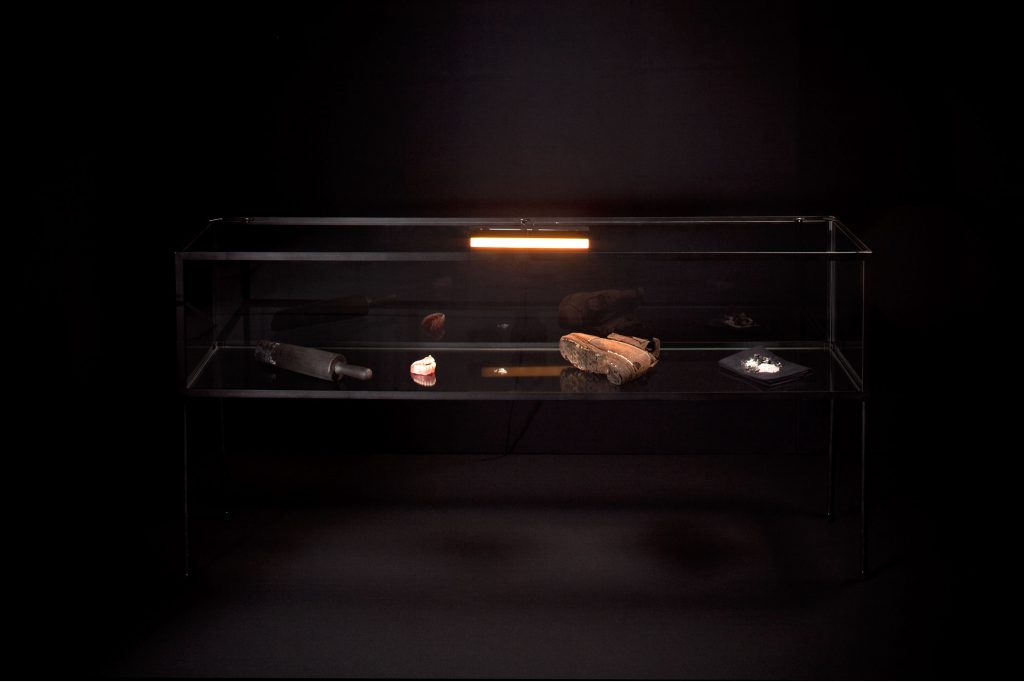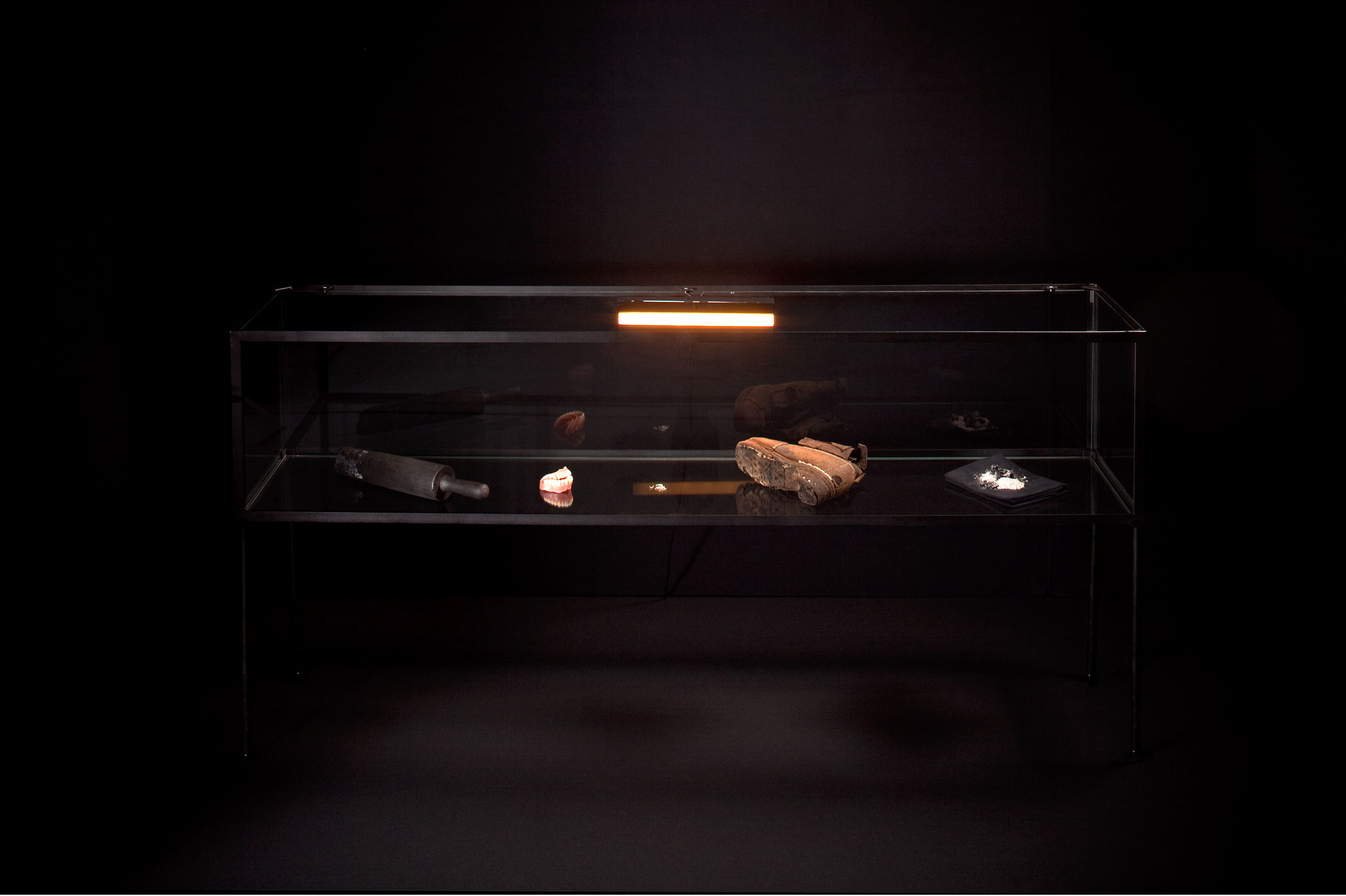 The Trickster Project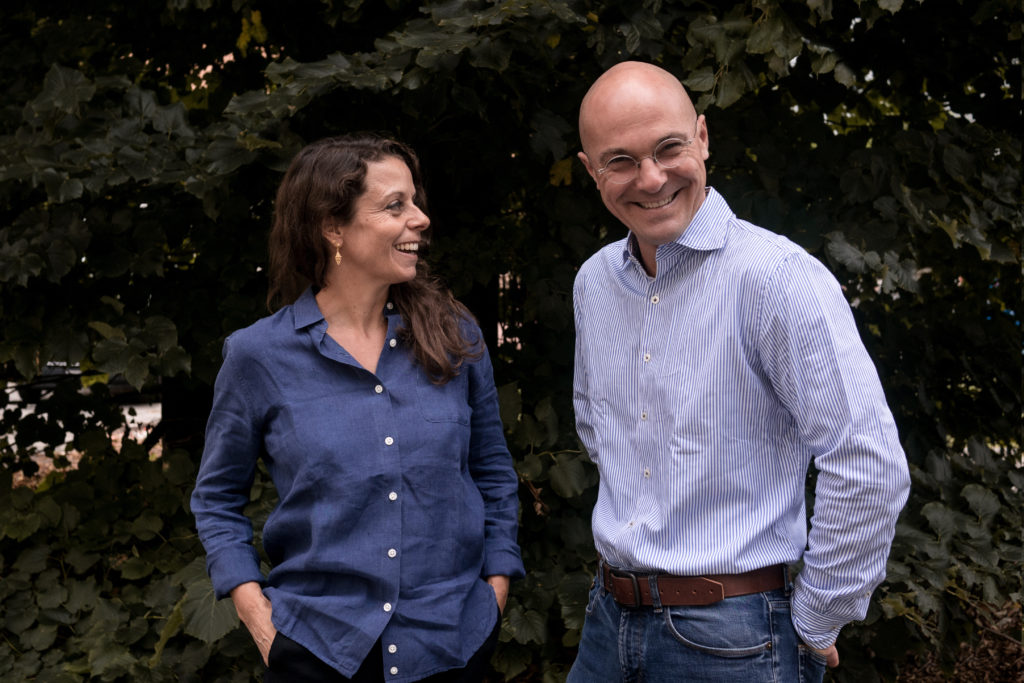 Trickster-p arises out of the encounter of Cristina Galbiati and Ilija Luginbühl and is intended as an artistic research project which pushes at the boundaries of different art forms. Initially their research focused specifically on the centrality and physicality of the performer; as time went on, their focus has shifted from a more narrow definition of theatre to include expressions that transgress genre boundaries, both conceptually and formally resulting from the mixture of extremely heterogeneous artistic media. Cristina Galbiati and Ilija Luginbühl's poetics is an invitation for the spectators to open up their perceptive space and create their own reality on the boundaries between inner vision and outer sight.
Artistic biography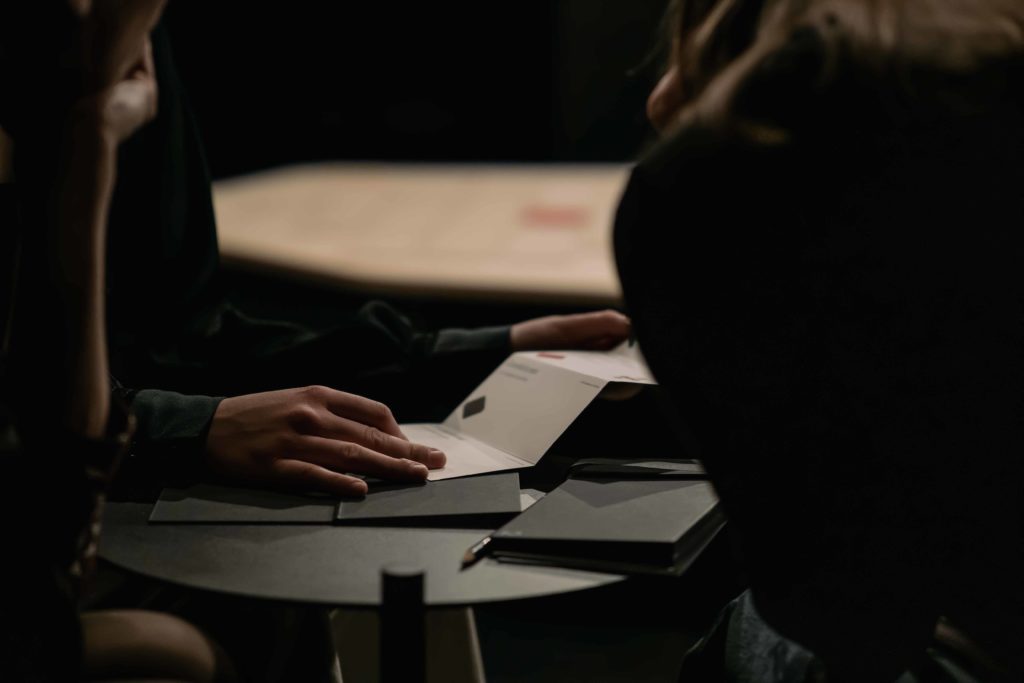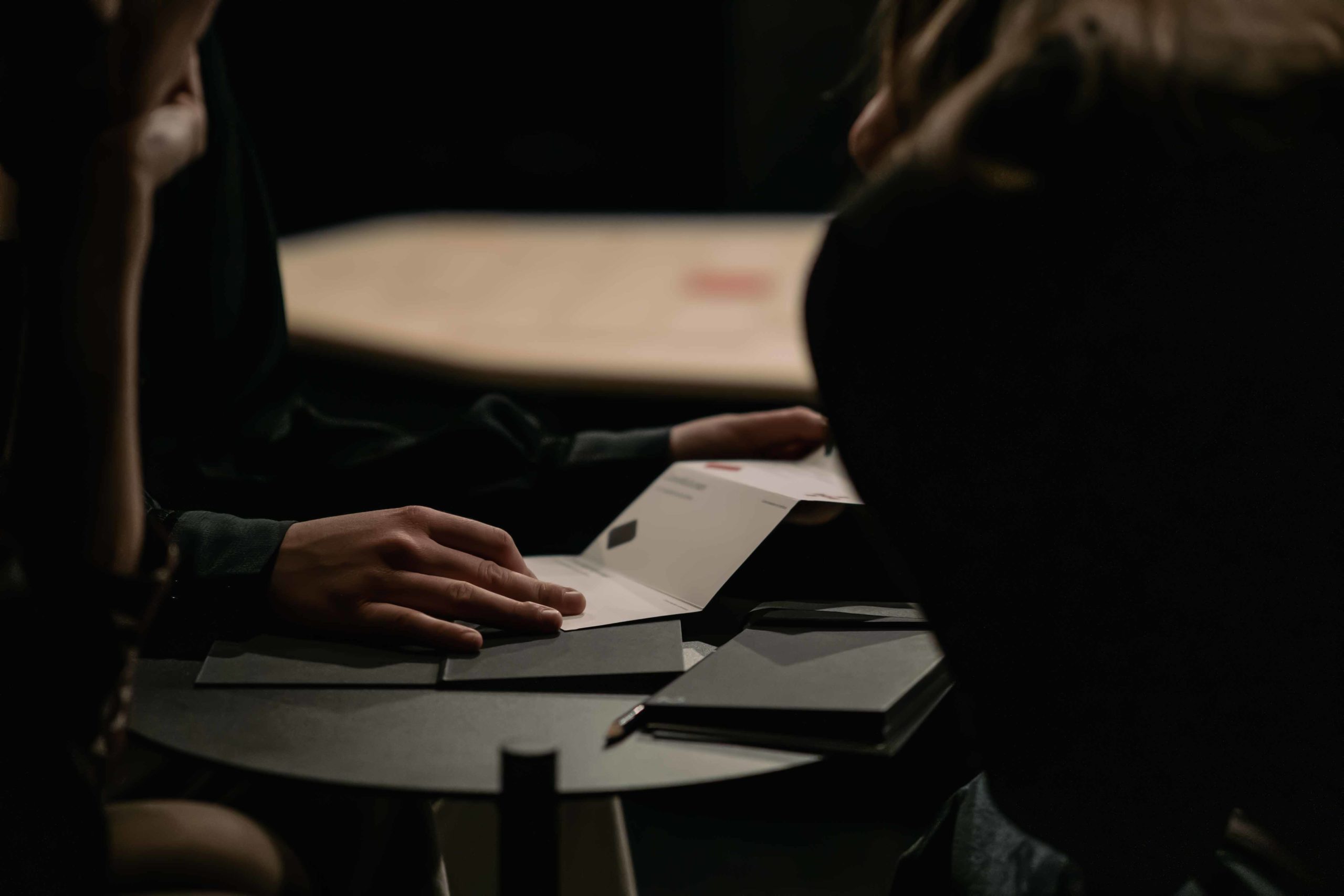 2022
Eutopia (2022 – …)
Concept and realization: Cristina Galbiati & Ilija Luginbühl
Artistic collaboration: Simona Gonella, Yves Regenass
Associated game design: Pietro Polsinelli
Original sound space: Zeno Gabaglio
Mastering: Lara Persia – Lemura Recording Studio
External eye: Martina Mutzner
Assistance and collaboration in the construction: Arianna Bianconi
Graphic design and design consultants: Studio CCRZ
Photos e teaser: Giulia Lenzi
Production: Trickster-p / LAC Lugano Arte e Cultura
Co-production: Theater Chur / ROXY Birsfelden / Südpol Luzern / TAK Theater Liechtenstein / FOG Triennale Milano Performing Arts
Creation residency: Le Grütli – Centre de production et de diffusion des Arts vivants
Until now performed 124 times (Italy, Liechtenstein, Switzerland)
Languages: English, French, German, Italian
2021
Hardwald walk (2021)
Concept and realization: Cristina Galbiati
Voice: Sibylle Mumenthaler
Sound space: Zeno Gabaglio
Mixing and mastering: Lara Persia – Lemura Recording Studio
Production: ROXY Birsfelden
Language: German
Estado vegetal (2021)
Translation, adaptation and direction: Cristina Galbiati
Voice: Ruggiero Dondi
With the participation of: Amelia Nesa
Sound space: Zeno Gabaglio
Mastering: Lara Persia – Lemura Recording Studio
Sound engeeners: Brian Burgan and Lorenzo Sedili, LAC
Production: LAC Lugano Arte e Cultura
Language: Italian
Accomplices
Over the years, the work of Cristina Galbiati and Ilija Luginbühl has been nourished and continues to be nourished by the vision and contributions of numerous collaborators, among others:
After graduating in Set Design from the Accademia di Belle Arti di Brera in Milan, Arianna Bianconi continued her studies with a major in Theater. As part of her master's degree, she spent a year at HEAR in Strasbourg. Her professional beginnings are somehow bound with the announcement of the first «lockdowns» called in 2020 due to the COVID-19, when the opera Alcina (in Nancy) – in which she was the assistant set designer – and Book is a Book is a Book (in Lugano) – for which she made the illustrations – premiered simultaneously. Since then, she has been working in the theatrical field applying her design and language skills, collaborating regularly with the FIT Festival Internazionale del Teatro e della scena contemporanea in Lugano, among others. Since 2020 she supports Trickster-p as a creation assistant for the projects Book is a Book is a Book and Eutopia, and since 2021 also in taking care of communication.
After studying Architecture at Politecnico in Milan, Paolo Cavalli began his professional activity as an interior and graphic designer. He is an associate and co-founder of the CCRZ studio (Balerna), a multidisciplinary reality that works on visual communication, design and interior architecture. He also collaborates with the Department of Environment Construction and Design at SUPSI (Mendrisio) as a guest lecturer. Paolo Cavalli is in charge of the image and graphic concept of Trickster-p since 2006. He is based in Canton Ticino.
Mauro Danesi is a producer and curator of artistic projects. After graduating in Psychological Sciences and Techniques of Interpersonal Relations and Social Organizations at the University of Bergamo, he first trained as a physical theatre actor at Teatro Tascabile di Bergamo, where he worked permanently until 2016. In 2013, he founded and began curating the international multidisciplinary festival ORLANDO (Bergamo), which he directed until 2023, with a keen interest in queer perspectives and the potential for social impact of culture. 
Since 2019 he works as a freelance creative producer for the dance company Silvia Gribaudi Performing Arts, managing promotion, counselling and development. 
Since 2022 he is in charge of the distribution of Trickster-p's artistic projects.
After studying Cinema and Social Sciences, Maria Da Silva trained in Directing at the Manufacture in Lausanne, where she developed several proposals based on enquiring into reality. She has created a number of projects that reflect her taste for the interdisciplinary and the hybrid dramaturgies, notably The show (must) goes on, Tout à Verlan, Notre Cabane, Sisyphe(s). Since 2018, she collaborates with landscape architect Nicolas Dutour. Together, they co-founded the collective Dénominateurs Communs to question art and landscape. As part of this investigation, between 2020 and 2021, Da Silva and Dutour lead a first research-creation project at the Manufacture through which they explored the dramaturgies of landscape in situ; in 2023, they are to begin a second process on the theme of the minor and collective gesture. Maria Da Silva is part of the research group of the project Awaken the sleeping giants.
Since training as a cellist and obtaining a master's in free improvisation and a further degree in philosophy (Lugano, Basel and Florence), Zeno Gabaglio has devoted himself to music in all its facets, with a preference for authentic, innovative and unconventional musical genres. Over the years his activity focused on contemporary music(s): as a performer of original music, as a composer of his own and as an improviser. He always devoted special care to the development of the electroacoustic possibilities on the cello. From 2003 onward, he engaged in intense concert activity across Europe, America and Asia, gaining important recognition for the concert, record and film productions in which he takes part. Parallel to these activities, he works in Switzerland as a freelance music critic, organiser and lecturer. Since 2018 he collaborates regularly with Trickster-p for whom he composes the original sound space of all projects.
Director, educator, and dramaturg/e, Simona Gonella is a freelance artist with a keen interest in contemporary dramaturgy, adaptation of classics, creative and devising work, and performing arts. She has been a member of the European Directors Club at UTE (Union des Théâtres de l'Europe) and directed plays at the Timisoara National Theatre, the Royal Shakespeare Company, the Chichester Theatre Festival and the RADA/GBS Theatre in London. She managed several European training, playwriting and directing projects. In Italy she directed and adapted several plays mainly of new dramaturgy, engaged theatre, children's theatre. She collaborated with RADA (Royal Academy of Dramatic Arts) in London, the School of Dramatic Arts Paolo Grassi in Milan (where she graduated in Directing), the Tallinn Theatre Academy and with the course for dramaturg of ERT- Emilia Romagna Teatro. In 2016, Dino Audino Editore published her Introduzione alla regia teatrale ("An Introduction to Stage Direction"). Since 2009, she participates in the creation of Trickster-p projects as dramaturg and artistic collaborator.
Pietro Polsinelli is a game designer, author, and software developer, who holds a degree in Philosophy and Mathematical Logic. He mostly works on commercial and applied narrative (a.k.a. educational) games in the fields of education, health, social awareness, and promotion. He is co-author of the book Giochi da prendere sul serio. Gamification, storytelling e game design per progetti innovativi ("Games to be taken seriously. Gamification, storytelling and game design for innovative projects") and is currently writing a book in English about narrative design entitled Narrative Design Toolbox. Since 2019 he is a researcher at the University of Milano Bicocca in the group Giochi per la salute – malattie croniche ("Games for Health – Chronic Diseases"). One of the last games he created, Football Drama, won the title of best Italian debut video game during the 2020 edition of the Italian Video Game Awards. He met Trickster-p in 2021 by collaborating in the Eutopia project.
After taking his first professional steps as a primary school teacher and independent theatre pedagogue, Yves Regenass earned a bachelor's degree in Cultural Sciences from the University of Hildesheim (Germany). Over the years, he developed a specific interest in the principles of theatrical performance, exploring the modes of interaction and narrative structures through numerous collaborations with groups from the independent scene in Switzerland and Germany. In 2010 he was one of the founders of the Berlin-based collective machina eX; in this frame he worked as dramaturg, director and performer, creating projects presented in Argentina, Austria, Germany, Great Britain, Switzerland and the United States of America. From 2013 to 2017 he worked at the ROXY theatre in Birsfelden as dramaturg. From summer 2021 to fall 2022 he was the head of Digital Dramaturgy for Theater Chur. With Trickster-p, Yves Regenass has worked as an artistic collaborator on the creation of Nettles, Book is a Book and Eutopia, and is part of the research group of Awaken the sleeping giants.
Casa del tabacco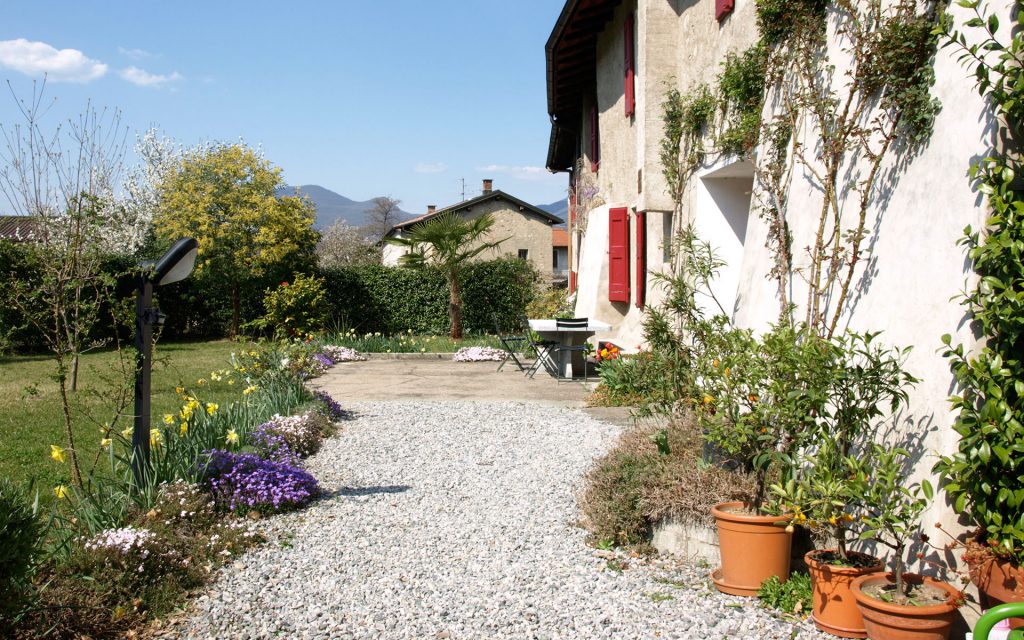 Located within the borgo of Novazzano, a few kilometres from the Swiss-Italian border, Casa del tabacco is a space dedicated to research and experimentation. Its remit is to house projects whose core themes centre on the contamination of different art forms and languages.
The L-shaped building was originally an old rural house with kitchen, stables and storage on the ground floor directly accessible from the courtyard where the tobacco used to be dried out; on the first floor, accessible through an external staircase, were the hay barn and the bedrooms facing the loggia.
Today, after numerous refurbishments, la casa del tabacco comprises:
– a working studio of approx. 80 m²
– a studio residence for the hosting of artists
– an office
Permanent premises of Trickster-p, Casa del tabacco is meant as both a physical space and a hub of ideas; it is conceived as a temporary residence dedicated to experimental artistic practices.
Contact
Registered office
Via Carlo Maderno 9
Casella Postale 1140
CH – 6901 Lugano
Operational headquarters
Via Boschetto 10
CH – 6883 Novazzano
T: +41 (0)78 698 16 67
mail@trickster-p.ch
Trickster-p benefits of a cooperative support agreement between Pro Helvetia – Fondazione Svizzera per la cultura, Repubblica e Cantone Ticino, Città di Lugano, LAC Lugano Arte e Cultura, Comune di Novazzano.
Over the course of the years one or more projects of Trickster-p have been supported by: Fachausschuss Tanz & Theater BS/BL, Kulturförderung Kanton Graubünden / Swisslos, Percento culturale Migros, Fonds culturel de la Société Suisse des Auteurs (SSA), Ernst Göhner Stiftung, Landis & Gyr Stiftung, Fondation Nestlé pour l'Art, Oertli Stiftung, Bürki Stiftung, GKB Betragsfonds, Doron Stiftung, Stiftung Dr. Valentin Malamoud, Boner Stiftung für Kunst und Kultur, Bürgergemeinde Chur, Anny Casty-Sprecher Stiftung, Fondazione Maletti, Fondazione Winterhalter
©2023 – All rights reserved
Website (design and code): Leonardo Angelucci
Media
Here you can download high resolution images which can be published for free for press use. Please mention the name of the photographer which can be found in the title of each photo. For other uses please contact Trickster-p.